When I went to Bath a couple of weeks ago, to see the 'Dressing the Stars' exhibition at the Fashion Museum, I of course had to go and visit the Jane Austen Centre. Whilst perusing the array of Austen related items that the Centre's shop sells, I came across 'Pride and Prejudice' the comic book. I had previously read a blog post on the books impending publication, and distinctly remember vowing never to read it. But somehow I found myself by the till presenting the book and my money to the lady behind the counter.
Well what can I say... there were numerous things about the comic book that seriously annoyed me, and many a time did I have to stop reading for a bit because of them. But now that I have finally finished reading it I have to admit that it is quite fun. It reminds me of the 05 film version - if you pretend that it has nothing to do with Austen and her novels, then it is a sweet romantic story.
The thing that most annoyed me is, that it seems that the illustrator just watched Austen film adaptations and copied the costumes, instead of looking at museum pieces, fashion plates etc.
Here are some stellar examples:
Caroline Bingley 05 P&P
Same as above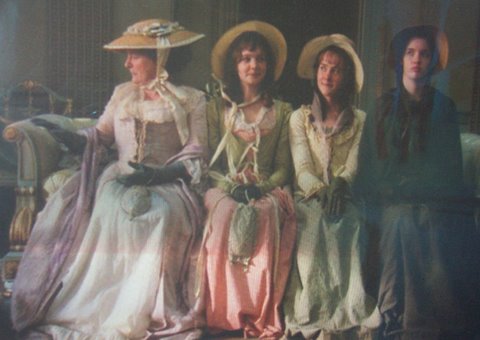 Mrs Bennet and her daughters visiting Jane at Netherfield. Very similar to 05 once again.
Lizzie's gown for the Netherfield Ball - 05 again.
Lady Catherine de Bourgh - me thinks comic Catherine is wearing similar gown to Dame Judi
In the comic the gown that Lizzie is wearing looks very similar to one worn by Hattie Morahan in S&S 08.
The spencer and hair ribbon that lizzie wears in this image is almost identical to those worn by Charity Wakefield in S&S 08
Well this I can't fault as Lyme Park will always be Pemberley :)
And here are just some odd bits:
I don't know if it is just me who thinks this, but Jane looks really like Emma Watson/Hermione Granger in this image!!!
Suddenly Jane's blonde hair turns black, though Lizzie's stays the same. odd...
And here everyone's hair turn's black apart from Mrs Bennet's and Kitty's.
The strangest of all - Georgiana Darcy's hair goes from blonde to red. That's some pretty good regency hair dye!
Mrs Bennet looks like she is wearing red lipstick and nail varnish. It doesn't seem very regency to me. I know make up did exist, but I thought that during the Regency a more natural complexion was prefered.
Lizzie seems to be wearing lipstick as well.